Rivers - anywhere you are in Europe, there must be a river not far from you. Ancient Greeks would marvel at rivers like Gods. How have we now come to a point in which up to 60% of European water bodies (including rivers) are highly polluted?
Rivers – anywhere you are in Europe, there must be a river not far from you. Ancient Greeks would marvel at rivers like Gods. How have we now come to a point in which up to 60% of European water bodies (including rivers) are highly polluted?
River Health
The health of water bodies constitutes a major determinant for human food and water quality, which demonstrates how human health is inextricably tied to healthy water body habitats. Rivers, in particular, constitute mobile water bodies which cross vast swathes of Europe while exchanging water, materials, energy and nutrients with their surroundings. Therefore, even though they make up a small percentage of surface freshwater, they have a significant influence on European habitats and their conservation status.
Pollution
Like other surface water bodies, rivers are affected by multiple sources. Point source pollution for example is any identifiable source of pollution, such as wastewater. Its disposal in rivers leads to a high concentration of toxic chemicals, such as cyanide, zinc, lead and copper. Then, diffuse source pollution results from the collective run-off of water used by human activities, particularly in agriculture. It increases the concentration of nitrogen and phosphate in water bodies, which are likely to trigger eutrophication, a situation which adversely threatens biodiversity due to an increased load of nutrients present in the water. Lastly, there are hydromorphological pressures, such as barriers, which may result in habitat alterations which have a series of cascading consequences ranging from higher water temperatures to reduced species' migration.
Water pollution can have grave consequences for the environment. The safety of drinking water can be jeopardised, entire food chains can be disturbed and there is a likelihood of disease spread (e.g. typhoid, cholera, etc…).
The Water Framework Directive
The European Union, in response to the unfavourable status of water bodies, introduced Directive 2000/60/EC – the Water Framework Directive (WFD) – in 2000.
The purpose of the WFD is "to establish a framework for the protection of inland surface waters, transitional waters, coastal waters and groundwater" (Article 1). Through the Directive, the EU, therefore, wishes to promote sustainable water use, enhance the protection of aquatic ecosystems, and ensure the progressive reduction of pollution. Member states are required under Article 4 to issue River Basin Management Plans (RBMPs) every 6 years, detailing how they will achieve a good water status. A deadline for publishing RBMPs was originally set for 2015; nevertheless, Article 4(4) provided for the possible extension of the deadline to 2027, which includes two more cycles of RBMPs.
For surface waters – like rivers – good status is dependent on a good ecological and good chemical status. The WFD also specifies that when natural circumstances do not allow a good status to be reached (Article 4(4)), or if the restoration is unfeasible or disproportionately expensive (Article 4(6)), an exception can apply to achieve a good water status. Nevertheless, no deterioration of the status is legally acceptable.
As of 2023, most MS have had difficulty realising the ecological ambitions of the WFD.  Furthermore, according to countries' RBMPs covering the period up to 2015, good or better ecological status has been achieved for only around 40% of surface waters.  The following section will examine the progress (or regress) of the WFD in more detail.
Challenges to the Water Framework Directive
With only four years left to meet the – extended – WFD deadline, the good status targets seem unlikely to be achieved. A study by the Living Waters Europe Coalition revealed that 90% of river basins studied around the EU will fail to reach the criteria specified in the WFD by 2027. In the same vein, a news headline by WWF revealed that "Europe's rivers [are] nowhere near healthy by [the] 2027 deadline". It is also noteworthy that a great deal of the water bodies which presented a good water status in 2015, already had the status before the adoption of the WFD.
Moreover, in September 2021, at least nine MS had still not presented their draft plans for all river basins, and RBMPs studied by WWF and the Living Rivers Europe demonstrated that there has been insufficient funding by MS for the Directive's implementation. Giakoumis and Voulvoulis (2018)  reveal that although the plan is fit for purpose, socioeconomic contexts and the MS' institutional settings have restricted the opportunities the WFD has brought to the table. This means that these countries will fail to fulfil legally binding requirements.
Rivers – anywhere you are in Europe, there must be a river not far from you. Ancient Greeks would marvel at rivers
Read More
https://yeenet.eu/wp-content/uploads/2023/05/1-3.png
810
810
YEE
https://yeenet.eu/wp-content/uploads/2018/11/logo-yee-728x1030.png
YEE
2023-05-18 09:44:32
2023-05-23 12:30:47
Advocating for stronger legal protection of rivers in Europe
Many climate lawsuits are started by young people, including an ongoing climate lawsuit in Sweden led by a group called Aurora, led by over 600 youth and children, including Greta Thunberg, are involved. Three young people from Aurora share their experiences.
Ronja Karvinen
Strategic Communications Coordinator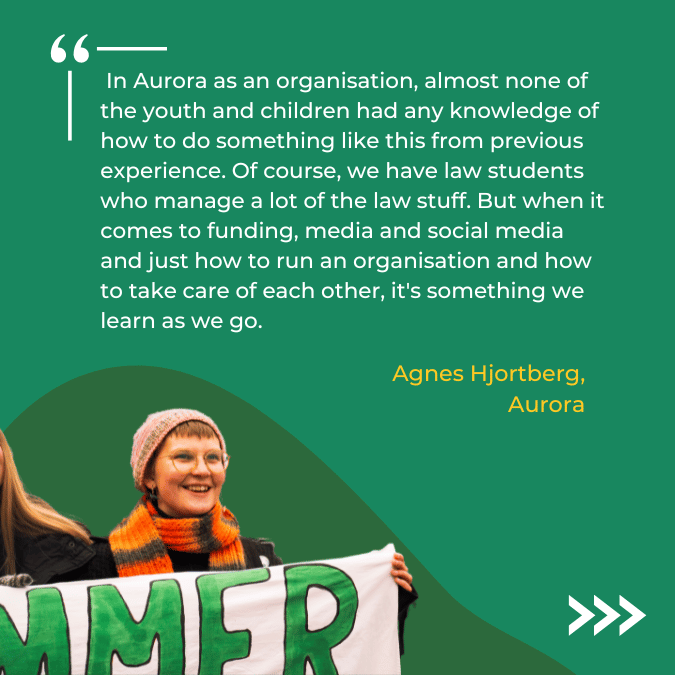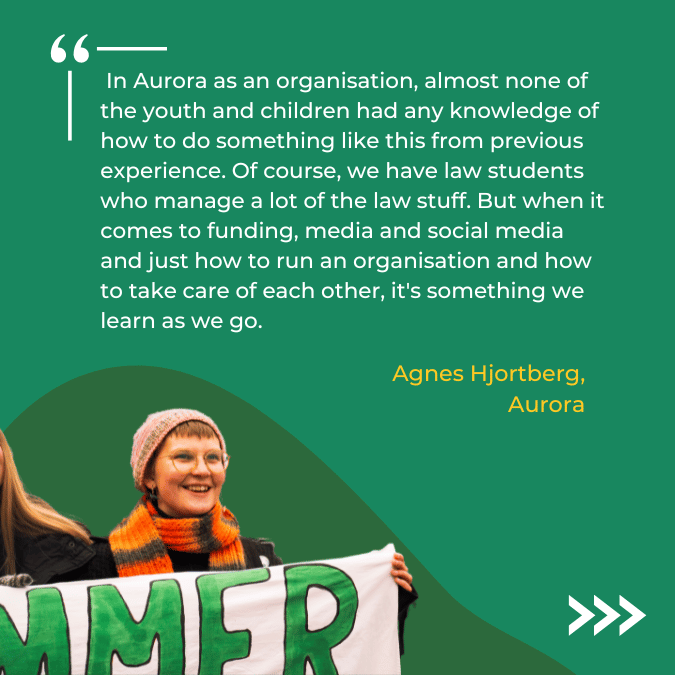 Climate litigation is becoming a hot topic, following an upsurge of legal mobilisations globally. In several countries citizens have come together to sue their states for insufficient climate action, and legal mobilisations have opened up new ways to demand climate justice from those in power. A large share of the lawsuits brought forward are driven by young people, who are suing their states for threatening their future human rights. Examples of recent youth driven climate lawsuits include Juliana v. United States, Duarte Agostinho and Others v. Portugal and Others and Soubeste et. al v. Austria et. al. 
We had the opportunity to speak to three young people from the organisation Aurora, who are behind an ongoing climate lawsuit in Sweden. On November 25th 2022, Aurora filed a lawsuit against the Swedish state for insufficient climate policies. More than 600 children and youth are behind the lawsuit, including Swedish climate activist Greta Thunberg. The youth are condemning Sweden's climate policies to be illegal, as the targets set by the Swedish state are too slow and insufficient, while the  previously set climate targets remain unachieved. Aurora is thus claiming that Sweden is not treating the climate crisis like a crisis. 
The district court of Nacka (a town in Sweden where the lawsuit was filed), considered the claims to be clear enough to be tried in court. On the 21st of March 2023 the Nacka District Court issued a summons, upon which the Swedish state will have three months time to respond to the case. The case is treated as a class-action lawsuit, meaning that a large group of people in Aurora will be represented by a few members of the organisation. The Swedish state on the other hand will be represented by the Chancellor of Justice.
We will now hear from three young people from Aurora: Agnes Hjortsberg (21), Anton Foley (20) and Ida Edling (23), who will share their experiences of filing a lawsuit as a group of young people.
Agnes Hjortsberg
Anton Foley
Ida Edling
What breaches are you suing Sweden on?
Ida
The legal provisions that we say the state has violated is human rights under the European Convention of Human Rights. So we're saying that the Swedish state's lack of sufficient climate measures threatens young people's human rights in the future. We're talking about the human right to life, to health, to dignity, to well-being, to home and to property. And that's Article 2, 3, 8 and 14 of the European Convention of Human Rights - and it's the first article of the first protocol of the European Convention of Human Rights.
How did you start this process?
Anton
A lot of the inspiration to do this came from people who had already done it in other countries. A natural first step, or one of the first steps, was to reach out and make contacts: at the very early stages we had calls and meetings with lawyers and activists who had pursued similar cases in for example Norway, the Netherlands and France. We learned from them both legally how we should approach it, but also how we should approach it organizationally, financially and from a media perspective. And then as we came to terms with what kind of case we wanted to run, or how we should do it, we also had close contact with international climate litigation groups, to sharpen our arguments and learn from their cases. Thus, I'd say there have been two waves of work: The first one is just about figuring out what is going on and how we should do this. And then secondly, once we had it more figured out, on the legal and technical side, we could focus on sharpening the arguments.
What type of competences are needed to file this type of lawsuit?
Agnes
In Aurora as an organisation, almost none of the youth and children had any knowledge of how to do something like this from previous experience. Of course, we have law students who manage a lot of the law stuff, but when it comes to funding, media and social media, or how to run an organisation and how to take care of each other, it's something we learn as we go.
Anton
And we've collected a network of professionals and people who know what they're doing in lots of different areas. For example: legal experts, climate scientists and public relations people to help us figure out how to get our message out there. But also a lot of climate activists helped us figure out what our actual aims are. Because there are lots of ways you could structure this legally, but not all would be desirable for what we actually want to achieve. Thus, "where are we going" is the first question we need to answer. Then, "what do we want to achieve? " and thirdly "how can we use law as a tool to achieve that?"
Ida
I think that the way we have decided to structure our work within the Aurora case is quite unique. And we've heard that from people who have worked with many different climate cases in other countries too, that our work culture is original because we have a very mixed work culture. We are completely led by youth who have no particular academic background, but who are firmly rooted in what we're actually trying to do. Like Anton was saying, the direction we're actually headed in. And then on the same decision making level or level below even, we have the actual competences. So this democratic way of working together from different age groups and different competence levels is unique I think, and has proven to be very dynamic and successful for us.
What would be your advice to a group of young people wanting to start something similar? What is the first thing to start with?
Agnes
One thing we've begun doing is creating a network of youth doing this all over the world. For example we have contacts in Norway, South Korea, Austria, and the Netherlands. I think one of the first steps is to reach out to one of those groups. We've had meetings with new groups, but we have also been the new group in other meetings. I think using the platforms and networks available is a good tool.
Anton
Yeah, and I think in general, if you're young and you want to make a difference in this or any social or environmental cause, the most important thing to do is to start from where you are and use whatever expertise, interest and platform you have available to you. And if you have a big idea, just go for it! We were just a group of people who thought this would be a cool thing to do and then we started talking to people who knew what they were doing. And then it took a while but over time we assembled this sort of group. And I think that, it sounds very cliche, but just do it, go for it and see where you end up. Nobody thinks they're going to start a global movement when for example deciding to school strike. You just do it because it's the right thing to do and then people sort of catch on. So, I think that wherever you are, start affecting change in your community and whatever spaces you are active in, in school, student unions, trade unions, religious groups, and wherever else you are active. Just start making a difference and speaking up in those circles and then see where it takes you.
Ida
Yeah, educate yourselves, take action and then take inspiration and learn from those who have done similar things before you, because you don't have to reinvent the wheel! The three steps that we advise other youth groups to take, if they also want to sue their states, is to: First find each other and then find competence, find lawyers and scientists, and then find money. Because you will need money. But also remember that all types of legitimate action is vital for sufficient climate action. So, litigation is one way but every other way is also valuable.
How can other young people or youth organisations support Aurora?
Ida
The first thing is to do what you're doing, continue to raise awareness of the climate crisis, continue to push for urgent action in the climate crisis, continue to try to make people in power see that the way we use Earth today is dangerous and won't last. And try to change that in a way that you're already doing, because that will help us all. We're one movement trying to achieve climate justice and everyone needs to do it in their way and every legitimate way is valuable. But then if you concretely want to help our particular cause, we are always in need of money, because holding the state accountable for violations of human rights is very, very expensive in Sweden. And so this would not have been possible without extensive economic support from the public, and here every contribution matters.
Agnes
And also if you're a youth in Sweden and you are interested in Aurora, you can also join Aurora! We always need more people!
https://yeenet.eu/wp-content/uploads/2023/05/1.png
675
675
YEE
https://yeenet.eu/wp-content/uploads/2018/11/logo-yee-728x1030.png
YEE
2023-05-11 12:01:40
2023-05-23 12:30:47
How to Sue a State
Learn about the positive and negative outcomes of the liberalisation process, and how energy communities could play a major role in the green transition.
Liberalisation of the energy sector
The liberalisation of the European energy sector was the continuation of the European Union's effort to create a European single market.
The underlying idea is that the creation of an economic union would naturally bring European countries closer together leading to further political integration, thus guaranteeing peaceful inter-state relations.
The main purpose of the liberalisation process was to organise the provision of electricity and gas more efficiently by introducing competitive forces where possible and regulation where needed.
Main barrier to the liberalisation of the energy sector
Up until the 90's the energy sector was structured around national monopolies preventing any kind of competition to emerge.
A major step in this process was thus to break down national monopolies or what is referred to as "unbundling".
The first "unbundling" obligations appeared with the 1st energy package (1996-98) and required the separation of generation, transmission, distribution, and retail activities.
Secondly, to increase cross-border exchanges the EU massively invested in interconnections. The European interconnected grid is now the largest in the world with 400 interconnectors (cross border pipeline and electric cables) linking 600 million citizens.
What are the results of this process?
What are Energy Communities (or energy cooperative)?
Legal entities of citizens getting together around an energy transition project.
They run around 7 main principles :
Voluntary and open membership
Democratic member control
Member economic participation
Autonomy and independence
Education, training and information
Cooperation among cooperatives
Concern for Community
Why are they so relevant to the energy transition?
It is estimated that half of the European citizens could produce their own electricity, covering about 45 % of the overall electricity demand.
89 % of the population could get involved in some energy system activity (for instance with the spreading of electric cars, households could offer energy storage services. Modern appliances like smart metres, remote control thermostats, electric vehicles etc. can offer demand response services*)
Energy cooperatives can get involved in a wide range of activities such as
Production • Supply • Distribution • Flexibility •Storage • Demand response •Energy monitoring •District heating • Transportation – E-car sharing • Energy savings – Collective home retrofits
*demand response: increased flexibility from the demand side to adapt consumption to the available generation.
On top of the technical advantages that the multiplication of energy communities could bring, these structures also fulfil a major social element of the green transition: Citizen engagement. The green transition is not only about switching from dirty to clean energy sources it is rethinking our entire economy and our consumption pattern. By giving the opportunity to our citizens to get directly involved in the energy chain, we create a population more aware of its own consumption and conscient of the behavioral changes needed to achieve our ambitious climate targets.
Major barriers to the creation of energy communities:
 • Access to funding
 • Lack of upfront investments and specific skills: Volunteer-based & lack financial skills. More risk aversion.
 • Lack of knowledge from financing institutions: banks don't recognize the new and innovative business models of energy communities
 • Lack of streamlined/stable Government financing mechanisms: public finance can de-risk and mobilise further community & private capital
Want to learn more?
Watch this video explanation of the virtue of energy communities
Understand issues related to the energy transition and environmental law, and strengthen the capacity of local organisations to push for more ambitious
Read More
Learn about the positive and negative outcomes of the liberalisation process, and how energy communities could play a major role in the
Read More
Germany is particularly vulnerable to disruptions in the global fossil fuel supply chain. Can coal be considered a temporary solution to the
Read More
If exiting from the Russian fossil fuels, gas and coal import is a necessity, should it be then done at all costs?
Read More
https://yeenet.eu/wp-content/uploads/2023/05/1-1.jpg
1080
1080
YEE
https://yeenet.eu/wp-content/uploads/2018/11/logo-yee-728x1030.png
YEE
2023-05-05 14:15:00
2023-05-23 12:30:48
Liberalisation of the energy sector | Webinar Recap
We have all heard activists and seen studies claim that women lead better and are peacemakers as they favour intuition and collaboration, so, could ecofeminism really be the ultimate solution for the environmental debacle we are facing?
Haguar Mourad
Liaison Officer on Intersectionality
"We are either going to have a future where women lead the way to make peace with the Earth or we are not going to have a human future at all." – Vandana Shiva.  
Many women have been remarkably stepping into environmental advocacy spaces to make their voices heard, but how important is it to integrate both feminism and climate activism in our advocacy discourse?
We have all heard activists and seen studies claim that women lead better and are peacemakers as they favour intuition and collaboration, so, could ecofeminism really be the ultimate solution for the environmental debacle we are facing?
The birth of ecofeminism
As we all may know, women are one of the main groups that are at the frontline of climate activism since they are particularly affected by the environmental crisis (80% of the people being displaced by climate change are women according to UN Environment), which is why special attention towards women and the climate change effects on them is needed. This is notably explored by ecofeminism.
The term 'ecofeminism' was first coined by the renowned French feminist Françoise d'Eaubonne, who described it to be a branch of feminism that explores the connections between women and nature. What is also interesting about Ecofeminism is that it digs deeply into how both women and the environment are at risk as a result of the patriarchal rule. As a matter of fact, patriarchy has always been strongly linked with capitalism which explains the simultaneous exploitation of both natural resources and women as a social class.
Some not-so-fun facts worth mentioning are that 70% of the 1.3 billion people living in conditions of poverty are women. In urban areas, 40% of the poorest households are headed by women. Women predominate in the world's food production (50%-80%), but they own less than 10% of the land.
Ecofeminism is believed to be more respectful of nature and women as it decenters males and abolishes hierarchies, men are then not thought to be superior to women or nature. Although ecofeminism originated in Europe, the actual movement started in the USA during the late 1970s and early 1980s, where it took a more inclusive turn as it coincided with the rise of intersectional feminism. Intersectional ecofeminism holistically plunges into the living conditions of women from different backgrounds and dissects the inequalities they endure through an environmentalist lens. It is then considered to be the ideal activistic paradigm. 
Why intersectionality is a necessity
While addressing the struggles of women in the context of climate change, the term "women" tends to be vague as they are not a homogeneous group, they actually exist on a large spectrum that should be meticulously analysed hence the need for an intersectional approach.
Intersectionality sheds light on different issues faced by various women, such as the different geographical contexts. As a matter of fact, women face different challenges based on where they're from. For example, in areas that are prone to droughts, women often face different struggles than men. Environmental degradation such as droughts often leads to economic instability, and as a result, women may have to give up on resources such as education in order to support the family.
Ecofeminism recognises how gender roles make us experience our environment and nature differently, and how different gender roles may experience different consequences.  Another example is how women in some contexts are forced to travel long distances to collect fuel, food, and water which subjects them to security risks and gender-based violence. Moreover, in Mexico and Central America between 2016 and 2019, about 1,698 acts of violence were recorded against female human rights defenders.
Different journeys equal different constraints
All struggling communities should then be provided with a platform that allows them to speak up about their experiences and share their stories that are a testament to their resilience. We can never do justice to the representation of the different journeys led by different women in the context of climate change, however, the best we can do is to make their names known, especially the non-white and underrated ones like Isatou Ceesay, Vandana Shiva, Susan Chomba, Sônia Guajajara and many others.
Going back to the initial question, women have the ability to make this world a better place: they are the backbones of their communities and the shapers of the future that we can't overlook the importance of their role in eradicating the climate crisis, empowering them locally and globally could definitely revolutionise our dystopian foreseeable future.
So, if you were to envision a non-patriarchal world where women were predominantly leaders, don't you also think that our history and present would have been vastly different? 
Recommendations
If you want to explore this topic more, check out the podcast "Outrage + Optimism", episode number 191.
Understand issues related to the energy transition and environmental law, and strengthen the capacity of local organisations to push for more ambitious
Read More
Learn about the positive and negative outcomes of the liberalisation process, and how energy communities could play a major role in the
Read More
Germany is particularly vulnerable to disruptions in the global fossil fuel supply chain. Can coal be considered a temporary solution to the
Read More
If exiting from the Russian fossil fuels, gas and coal import is a necessity, should it be then done at all costs?
Read More
https://yeenet.eu/wp-content/uploads/2023/05/1.jpg
1080
1080
YEE
https://yeenet.eu/wp-content/uploads/2018/11/logo-yee-728x1030.png
YEE
2023-05-04 12:43:00
2023-05-23 12:30:48
Intersectional Ecofeminism
While there are concerns about protected areas and funding, civil society and youth play a crucial role in holding governments accountable and pushing for implementation.
Heather Needham
Liaison Officer on Biodiversity
Sophia Ullrich
Liaison Officer on Biodiversity
https://yeenet.eu/wp-content/uploads/2023/03/1-2.png
540
540
YEE
https://yeenet.eu/wp-content/uploads/2018/11/logo-yee-728x1030.png
YEE
2023-03-30 13:13:38
2023-03-31 15:01:16
Is the Global Biodiversity Framework enough?
Germany is particularly vulnerable to disruptions in the global fossil fuel supply chain. Can coal be considered a temporary solution to the energy crisis?
How did we end up with an energy crisis in Europe?
The consequences of the sudden cut in oil production caused by the covid-19 pandemic, together with the sanctions (and the related retaliatory policies) that followed the Russian invasion in Ukraine, stifled the supply of fossil fuels to Europe. With gas, coal and oil becoming increasingly harder to source, their price has skyrocketed, thus triggering an energy crisis.
Effect of the Energy crisis in Germany
Of all the countries in Europe, Germany is particularly vulnerable to this disruption in the global fossil fuel supply chain. On the one hand, the country has the highest demand for electricity in Europe. On the other, most of this demand is met by burning imported gas, coal and oil (i.e., those same commodities whose price has gone through the roof recently). To make things worse, until recently the country's primary supplier was – you guessed it – Russia. I don't want to bother you too much with the numbers, but in case you are interested here are two detailed sources to learn more about the German Energy Mix and its Fossil Fuels Supply chain.
As of Spring 2022, government officials find themselves in a tricky position. They need to come up with a way to meet the biggest demand for energy in the continent, or else the country's economy will collapse, but imported fossil fuels are increasingly inaccessible and expensive. To respond to these challenges, a wide set of policies are implemented with the aim to reduce Germany's dependence on international markets. Some actively foster the energy transition, by boosting investment in renewables and promoting consumer and producer sobriety. Others, however, go in the opposite direction.
Breaking a nine year trend, since 2021 the share of coal used in the country's energy mix has started to grow again. While in 2019 the government had established a plan to completely phase out coal by 2038, now the priorities seem to have changed. In an effort to replace some of the energy previously produced with Russian gas and oil, it has been decided that 20 coal-burning plants that were supposed to be shut down by 2023 (according to the original timeline) will instead continue operations this year. The inability to source gas from international markets has also been used to provide political legitimacy to the decision to go through with the expansion of the Garzweiler II brown coal (aka lignite) mine, which now also includes the soil under the recently demolished Lützerath. 
Not everyone agreed with the idea of destroying this small town in the middle of the Rehin region. Since 2020, thousands of activists had been occupying the area to prevent the expansion of the mine. The argument was simple: if the fuel under Lützerath is burnt, its emissions will make it hard for Germany to meet the emission reduction targets it agreed to in 2015. This claim was backed by the German Institute for Economic Research. In the end, the pro-coal faction won and in late January the village was evacuated, allowing the expansion to start.
Can coal be considered a temporary solution to the energy crisis?
If what we are looking for is an immediate way to provide more energy to the system, increasing coal consumption seems to be an effective and easily achievable — albeit a bit short sighted — solution to the energy crisis. Firstly, internationally sourced hard coal offers a cheaper substitute to the more scarce and more expensive gas. Secondly, lignite is the only fuel that can still be domestically sourced from the country's active mines. As such, it is a more reliable, less volatile source of energy, whose use contributes to the temporary strengthening of the country's energy sovereignty. Finally, the infrastructure to turn coal into energy is already there, meaning that increasing capacity requires smaller investments and less time.
Nonetheless, all this comes at a great environmental and social cost. At the global level, coal is the deadliest source of energy. Throughout the world, for every terawatt-hour of electricity produced using hard coal 25 people lose their lives. The figure rises to 32 deaths when we consider lignite (which, as a reminder, is the type of coal that is mined in Germany).  Looking more specifically at the case of Germany, coal is responsible for up to 2260 preventable deaths. If you want to learn more about how deadly are other sources of energy, you can check out this interesting visualization made by Statista. The reason behind this macabre first place is pretty straightforward : coal (and especially lignite) releases a high quantity of toxic pollutants in the atmosphere. Talking about first places, the burning of coal is also the single largest contributor to anthropogenic climate change, emitting more CO2 per gigawatt-hour produced than any other fossil fuel. Consequently, if coal is not eliminated from the country's energy mix fast enough, meeting the emission reduction targets agreed upon in Paris becomes basically impossible, as we were reminded by the "1.5 degrees means Lützerath stays" banner outside the entrance of the occupied town.
The example of Lützerath also points at another important limitation of coal. Lignite mining takes space and in doing so, it destroys both social and natural ecosystems. Since the end of WW2 around 300 cities have been destroyed to make space for extraction operations, with that more than 120 thousand people have been eradicated from their local communities and relocated somewhere else. With that, pieces of cultural heritage have also been demolished, such as the church of St. Lambertus in Immerath. Aside from impacting human settlements, land mining also radically changes the landscapes of the areas in which it is performed, thus destroying the habitat needed for the local flora and fauna to survive and increasing the risk of loss of biodiversity.
Ok, but what do we make of this – maybe a bit disproportionate –  pros and cons analysis? In light of what I just said, I would argue that increasing coal use cannot be an answer to the crisis. We know that producing electricity by burning this fuel implies a high environmental and social toll that is hard to justify. Because of this, the government has decided to phase out coal completely by 2038.  At the same time, however, to this day coal is still a pillar of the German economy. In 2021, it supplied 30% of the national demand for electricity and, in 2018, it provided almost 40 thousand jobs (this last piece of data is a bit old, but given the trends we described before I would expect up to date figures to still be a sizable number). Consequently, unwinding this deep integration without causing a socio-economic crisis takes time – as shown by the fact that the final target date set by the government is in 15 years – and erasing the progress done in the last couple of years makes the process even longer. This means more pollution, more land use and more preventable deaths. On top of this, the country really does not have the space of maneuver to delay this process any further than it already has if it wants to meet the emission reduction targets it agreed to in 2015.
How do you deal with the energy gap that you could have otherwise filled with coal?
While renewables are of course an option, I would suggest more emphasis should be put on the reduction of the national energy consumption, rather than on diversification. The energy and environmental crises are showing us that it is now anachronistic to assume we have access to an unlimited supply of energy ready to satisfy whatever demand we might have. Hence, it is time that we come to terms with this reality and start building our production and consumption patterns based on the amount of energy that is sustainable to consume. I understand that this is a radical change, but, whether one likes it or not, we are entering an age of limits. If we adapt to it gradually, we will have to sacrifice a bit more at first, but we will be better fit for it in the long run. If we ignore what is happening, the change in the way we live will be more traumatic and potentially dangerous. 
Of course, this line of reasoning stretches further than the borders of Germany and, mutatis mutandis, applies to every policy solution that is supposed to tackle the environmental and energy crises.
Understand issues related to the energy transition and environmental law, and strengthen the capacity of local organisations to push for more ambitious
Read More
Learn about the positive and negative outcomes of the liberalisation process, and how energy communities could play a major role in the
Read More
Germany is particularly vulnerable to disruptions in the global fossil fuel supply chain. Can coal be considered a temporary solution to the
Read More
If exiting from the Russian fossil fuels, gas and coal import is a necessity, should it be then done at all costs?
Read More
https://yeenet.eu/wp-content/uploads/2023/03/IG.png
675
675
YEE
https://yeenet.eu/wp-content/uploads/2018/11/logo-yee-728x1030.png
YEE
2023-03-27 16:01:41
2023-03-31 15:01:17
Germany has a toxic boyfriend
The discussion within the EU around the Fit For 55 legislative package is at the core of the EU's current action on environmental policies and laws. It is therefore essential to understand why the need to update the policies regarding EU climate change, the crucial steps of decision-making, and how we can participate in this process. Thus, this article aims at informing you about the FF55, what it is, why we are talking about it, and why access to justice is an extremely relevant topic.
Learn more about the project
What is Fit For 55?
The European Green Deal significantly raises the EU's climate ambition to deliver on its multilateral commitments under the Paris Agreement (2015) and put it on a path toward climate neutrality. The FF55 is a set of twelve proposals presented by the European Commission on 14th July 2021 that aims to revise and update EU climate policies with the objective to make a legal obligation for all the EU countries to reduce greenhouse gasses (GHG) to 55% compared to 1990 by 2030. It implements and meets the longer-term Green Deal, by aligning with the EU objective of reaching climate neutrality by 2050.
The aim is to guarantee a just and socially fair transition and strengthen innovation and competitiveness of EU industry while ensuring a level playing field vis-à-vis third country economic operators. Furthermore, it is used as a tool for the  EU to lead the way in the global fight against climate change.
The Fit for 55 package's proposals were presented and discussed at a technical level within the Council's working parties responsible for the policy area concerned before they landed on the table of EU member states. Discussions are held to prepare the ground for an agreement on the proposals among the 27 member states. EU ministers, in various Council configurations, then exchanged views and seeked an agreement on a common position on the proposals. This forms the basis on which the presidency of the Council then engaged with the European Parliament in negotiations to find a common agreement in view of the final adoption of the legislative acts. 
The Fit for 55 package was submitted to the Council in July 2021 and it is being discussed across several policy areas, such as environment, energy, transport, and economic and financial affairs. Concretely, the FF55 is composed of different rules regulating climate-related sectors and includes a high variety of sectors, among which the: Renewable Energy Directive (RED); The Emission Trading System (ETS); The Effort Sharing Regulation (ESR); The Land Use, Land Use Change, and Forestry Regulation (LULUCF).
2019, 2020 & 2021 – How do we achieve climate neutrality?
The Fit for 55 takes  its sources in 2019 when the EU leaders endorsed the 2050 Climate neutrality objective. Poland was the only one to express reservations on the subject. Following this resolution, in October 2020 the EU leaders discussed the EU's Climate ambition for 2030 and the Council adopted conclusions on the EU biodiversity strategy for 2030. 
Things accelerated in April 2021 when the Council and the Parliament reached a provisional agreement of reducing greenhouse gasses (GHG) to 55% compared to 1990 by 2030. On 20 July 2021, EU environment ministers discussed FF55 during an informal meeting, and from this date, the official discussion started. 
The first formal minister debate took place on October 6 and was focused on the impact of the proposals on citizens, emissions trading to buildings, and road transports. 
For the last meeting of the year 2021, the environment Council took note of a progress report prepared by the Slovenian presidency and held a policy debate on five of the files in FF55 which are: 
*Infographic – Fit for 55: how the EU will turn climate goals into law
2022 – securing the energy supply
On 24 February 2022, the Russian invasion of Ukraine started. Since then, the EU has been facing the challenge of security of energy supply due to its dependency on Russian gas, and as 45% of natural gas consumed by the EU comes from Russia, it was quickly necessary to find alternative sources and therefore, by force of circumstance, to review the FF55 energy plan.
Thus, within the Parliament, ongoing discussions target the ways in which these rules can be amended, changed, and updated to meet the climate policy objectives. The European Commission presented on March 8 the idea of coming up with a new project which aims at phasing out Russian fossil fuels and becoming more autonomous and independent regarding its energy supply and security. The plan was well received by EU leaders, who signed the Versailles declaration. They all agreed on the necessity to make the EU independent from  Russian energy imports as soon as possible. On May 18, the Commission presented the REPowerEU plan, and a week after the EU Energy Platform Task Force was established to secure alternative supplies.
On 29 June 2022, the Council of the EU adopted a common position on the package presented in July 2021 by the Commission. A general approach under the French Presidency was agreed on, which differs in significant ways from the  European Parliament's Committee for Industry, Research, and Energy (ITRE) report. 
More precisely, Member States adopted a common approach to the EU emissions trading system (EU ETS), effort-sharing between member states in non-ETS sectors (ESR), emissions and removals from land use, land-use change and forestry (LULUCF), the creation of a social climate fund (SCF) and new CO2 emission performance standards for cars and vans. 
The Council supports a binding renewable energy sources (RES)target of only 40 % by 2030, reflecting the Commission's original proposal (July 2021). The general approach offers Member States the flexibility to choose between a 13% reduction in GHG intensity or a 29 % share of RES in the final energy consumption in the transport sector by 2030. The general approach proposes lower sub-targets for mainstreaming RES in heating and cooling (+0.8% annually until 2026 and +1.1 % thereafter) and industry (+1.1% annually), but also requires that 35 % of the hydrogen used in the industry should come from RFNBOs by 2030, rising to 50 % by 2035.
This common position is called "general approaches".
The year 2022 ended up with endless negotiations regarding nuclear power. The socialists and greens support banning atomic power, but some countries, more nuclear-dependent such as France, are opposing the above positions towards atomic energy. Finally, on July 6, the Parliament voted to record nuclear power as renewable energy. The chapter on renewable energies of FF55 is therefore greatly impacted since the threshold to be met will now include not only solar and wind energy but also renewable nuclear and gas.
2023 – planning ahead
Even though 2023 just started 3 months ago, the discussion around the possibility of setting national sustainable aviation fuel (SAF) is still in process. Indeed the aviation industry is one of the main parts of Fit For 55. Under this regulation, all planes departing from an EU airport will have to refuel as they become available with sustainable aviation fuel (CAD) — low-carbon alternatives to kerosene made from advanced biofuels and hydrogen-derived green synthetic fuels.
The European Parliament and the Council do not agree on the percentage of CAD to be imposed — the Parliament wants 85% by 2050, while the Council sticks to the 63% proposed by the Commission — and on the matters first to be designated as "sustainable".
The inclusion of nuclear as a potential energy source to create synthetic fuels was the red line for Socialist (S&D) and Green (Greens/EFA) MEPs.
FuelEU Maritime, the sibling of ReFuelEU Aviation, will also be negotiated in 2023.
Unlike the aviation fuel law, FuelEU does not mandate the type of fuel that must be used in ships. Rather, it sets increasingly strict carbon intensity limits that must be respected. 
However, green-minded legislators are concerned that giving the shipping industry carte blanche will see them choose the cheapest rather than the greenest option to meet the targets. Specifically, the option to fuel ships with liquefied natural gas – a fossil fuel – up to 2030 has proven controversial.
Finally, concerning the automotive sector, new thermal engine cars will be banned from sale by 2035. However, the lack of charging stations creates a significant problem for the development of electric cars.
Both the private sector and national governments are working to increase the availability of charging points. In Brussels, the issue is addressed through the Alternative Fuels Infrastructure Regulation (AFIR).
AFIR sets out requirements for the number of charging stations along the EU's main transport corridors and aims to make it easier to pay for charging, particularly when crossing into another EU country.
Access to Justice in the FF55
Other than being crucial that MEPs find fast, common agreements on these, it is also likely crucial that Member States (MSs) implement and enforce the package. Once adopted by the EU, the package will be in the hands of MSs, which have the responsibility to implement the updates. 
The Aarhus Convention, signed in 1998, sets three important pillars —access to information, public participation, and access to justice — which are the cornerstones of environmental and climate governance in Europe. As also parties of the Convention, EU member states and the EU itself have an obligation to implement all its pillars.
Among these pillars, ensuring that  EU citizens and NGOs have the right of access to justice is essential to make sure that member states are held accountable in case of disrespect of environmental and climate objectives. Despite the fact that regulations have a direct effect on Member States' laws, access to justice in environmental matters is still very limited. The right of access to justice has been therefore subject to strong advocacy work from EU environmental NGO. According to them, it is crucial to have a liability mechanism open to civil society for holding MSs accountable for any violation: the climate emergency does not allow delays in the implementation of measures.
With the massive work around the FF55, there is a concrete possibility to include access to justice provisions within EU climate rules and ensure the empowerment of civil society in challenging MSs when not complying with the agreed targets. As a matter of fact, there is neither democracy nor a green Europe without sound and coherent access to justice: the FF55 must not be the exception.
Finally, it is important to remember that FF55 is still open for updates, the negotiations are still in process so NGOs can and must put pressure on Member States to make this agreement sustainable and greener. 
Rivers – anywhere you are in Europe, there must be a river not far from you. Ancient Greeks would marvel at rivers
Read More
The discussion within the EU around the Fit For 55 legislative package is at the core of the EU's current action on
Read More
If exiting from the Russian fossil fuels, gas and coal import is a necessity, should it be then done at all costs?
Read More
The importance of protecting children and youth rights as rights-holders and stakeholders in the context of environmental-related disasters.
Read More
https://yeenet.eu/wp-content/uploads/2023/03/Ff55-Article-Cover1.png
810
810
YEE
https://yeenet.eu/wp-content/uploads/2018/11/logo-yee-728x1030.png
YEE
2023-03-23 08:24:38
2023-03-31 15:01:18
Fit for 55: the legislative package that the EU must not fail
Climate adaptation at COP27 through a youth lens
Youth and Environment Europe (YEE) and Youth4Nature (Y4N) are international youth-led organisations within the nature-climate nexus that strive to bring the voices of youth from across Europe (YEE) and across the globe (Y4N) to the forefront of environmental discussions and decision-making.
Building on this synergy and upon COP27 momentum – two weeks within the international agenda where all eyes focused on the climate negotiations – the two organisations met on the ground at Sharm el-Sheikh to share knowledge amongst youth peers globally on what adaptation is and how youth experience it, with an emphasis on amplifying diverse youth perspectives and environmental justice.
https://yeenet.eu/wp-content/uploads/2023/03/YEEY4N-COP27-Adaptation-Report-Instagram-Post-Square.png
675
675
YEE
https://yeenet.eu/wp-content/uploads/2018/11/logo-yee-728x1030.png
YEE
2023-03-15 11:26:27
2023-03-31 15:01:18
Adaption at COP27 through a youth lens | Report
3 Billion Trees - Can the EU do it?
What is the 3 Billion Tree Pledge?
3 billion trees – a big number, a big promise. As part of the EU Biodiversity Strategy for 2030, the European Union committed to planting 3 billion additional trees by 2030. Without a doubt, trees are incredibly important to our natural environment – they provide crucial roles in various ecosystems, are home to many diverse species, absorb carbon, improve human health and well-being and serve essential roles in flood control and water filtration. This EU pledge plans to do just that. By increasing forest cover in the EU, "in full respect of ecological principles: the right tree species in forests, agricultural areas, urban and peri-urban areas and along infrastructure corridors". Is this promise too good to be true?
The forest expansion rate in the EU has been slow in recent years, and a goal of 3 billion additional trees would double the total forest expansion rate in Europe between 2005 and 2020. It is currently estimated that in the EU, 300 million trees are grown annually. Currently, as of October 2022, the activity under the pledge has resulted in 6,787,146 new trees have been planted, carried out in all 27 countries with help from 28 organisations such as Land Life and ReforestAction. 
Afforestation – a solution for the biodiversity and climate crisis?
Afforestation and reforestation are not new policies, humans have been planting trees for centuries. There is a consensus that trees and forests are worthwhile and there is a policy to support it. The EU itself has seen the afforestation of approximately one million hectares of agricultural land between 1994-1999, and 700 hectares between 2000 and 2007. Many countries have afforestation policies in place. Canada's Forest 2020 Plantation Development and Assessment Initiative, not dissimilar to this pledge, saw the plantation of 6000 hectares of forest and its success encouraged the government's investment of $3.16 billion to plant 2 billion trees in ten years in 2020. Famously, the African Union put in place the Great Green Wall, an ambitious policy to help combat desertification, the AU has been planting a wall of trees to cover 100 million hectares of land and absorbs 250 million tonnes of carbon from the atmosphere. Other approaches have been taken – in 1981, China put in place a law which requires children over the age of 11 to plant a tree per year. 
What is the impact on biodiversity…? 
What does planting trees do? Firstly, forests are important loci for biodiversity, representing often dense ecosystems with diverse plants and animals. Forests are thought to be important habitats, "home to 80% of the world's biodiversity on land". Planting more trees in forested areas or reforesting struggling forest ecosystems can have many important impacts. Forests are important habitats and maintaining their integrity through reforestation can ensure that wildlife remains in the region and isn't forced to relocate. Increased forest density and diversity have also been linked to an increase in species richness for fungi and soil invertebrates. Moreover, tree plantation in urban areas (included in the 3 Billion Trees Pledge) has been studied as a positive act that attracts and shelters wildlife species, particularly birds and insects, and provides shade.
Forests are also key for soil quality and resilience. A lack of trees has been seen to cause a sensibility to soil erosion. Trees' overlapping and interconnected roots provide a structural role in the topsoil layer of land. This topsoil layer can erode (runoff) without trees in place, which in turn risks the land becoming infertile and inhospitable to the plantation. Moreover, afforestation has been found to improve watersheds, which are key for water supply. 
.. and for the climate?
The benefits don't stop there – trees can help us in the fight against climate change. Carbon sequestration is a bit of a buzzword in the environmental sphere but it shouldn't be dismissed. Restoring forests and increasing generally the number of plants on our earth has the potential to absorb and store large amounts of carbon – these are known as carbon sinks. Through photosynthesis, carbon dioxide is absorbed by trees, and they in turn release oxygen. The absorbed carbon is turned to sugar which is used in the wood, branches and roots, meaning that it remains in the standing tree. Even once the tree dies, it takes years for the carbon to break down, apart from when leaves decompose and when carbon is released more quickly. The age of the tree impacts its carbon sequestration aptitude, with middle-aged trees being the most effective and young trees the least effective due to size. Overall, uneven-aged forests are the best at carbon capture – meaning that planting trees in strategic places would allow for uneven-aged forests and increase the potential for carbon sequestration. 
For this reason, afforestation and reforestation are seen as one of the great 'natural solutions' for climate mitigation. Policymakers believe these forms of ecosystem services are probable to be of rising importance and relevance due to their impact both for mitigation and adaptation to climate change, and general benefits to our environment. This potential has been recognised internationally with the Paris Agreement emphasising the importance of carbon sinks in order to achieve a balance between emissions and removals. Carbon sinks are a key part of EU environmental policy with recent targets set to increase carbon sinks by 15% compared to today in the land use and forestry sector. 
Overall, the pledge could be very powerful in this regard: 3 billion trees covering 2 million ha could remove up to 4 million tonnes of CO2 from the atmosphere already by 2030, and as much as 15 million tonnes by 2050, according to the European Commission. The decision to encourage tree planting, therefore, seems a logical one, both in terms of benefits for climate and biodiversity.
The right tree, in the right place, for the right reason
However, as with most environmental solutions, it is not as clear-cut as it seems. 
Virginijus Sinkevičius, the EU's environment commissioner, commented: "That's our promise. To plant three billion trees. The right trees, in the right place, for the right reason" – this second half is essential, we can't simply plant any tree anywhere and assume it is beneficial. It must be done properly – is the 3 billion tree pledge ready for that? 
The pledge, in all its ambition, has limitations. With 8 years left, there are still 2.993 billion trees to be planted and yet, given the voluntary nature of the pledge, it is unclear how the number will be reached. The pledge came along with a roadmap which primarily relies on monitoring through the Forest Information System for Europe and the creation of a new app MapMyTree so citizens can upload and monitor their trees and progress. Anyone can plant a tree – but it is essential that native tree species to the area are planted, and that it is done with care and understanding of the surrounding ecosystem. 
Avoiding Monocultures 
The pledge is ambitious – asking for huge amounts of trees to be planted – but it cannot be stressed enough that monocultures cannot be a solution to short-cut to the end-goal of 3 billion trees.  Monocultures were conceptualised as a way to produce as much wood "in as little time as possible and, technically in the simplest manner" in the 18th and 19th centuries in Europe as a response to timber shortages. Their simplicity is at odds with the necessary complexity of biodiversity. In setting high targets for tree plantation, there is the potential that concerned actors would cut corners and plant large plantations of similar species – not a sustainable approach to forestry. As Friends of the Earth International, World Rainforest Movement and FERN, said monoculture tree plantations done in the guise of carbon sinks would "have to be large-scale and thus even more destructive — are exactly the opposite of "sustainable development". Ecosystem uniformity means that there is a lack of genetic diversity as well as typically close planting, making monoculture plantations vulnerable to pests and diseases. 
Where's the money? 
Another issue with the pledge is funding. The reality is that to achieve such an ambitious goal as 3 billion trees, there will be a need for monetary incentives. In the EU's public consultation on the issue, a main key challenge in terms of planting additional trees was identified: "financial resources/loss of farmland value after conversion to forest land", an issue raised by 62.88% of respondents. It seems that this pledge is relying on the use of pre-existing EU and national funds and monetary mechanisms such as Finland's Metso Programme which pays private forest owners to keep some of their lands for biodiversity purposes. In the EU, the Common Agricultural Policy (CAP) helps provide financial support for forests and forest management through national Rural Development Programmes, though the use of these funds has not been achieved to their fullest extent, perhaps due to a lack of awareness of how to apply or implement forest-based adaptation activities. From 2014 to 2020, 27% of these CAP forestry measures went to afforestation.
Unfortunately, we cannot simply hope that 3 billion trees will be planted by pure goodwill and altruism – as Carlos Manuel Rodríguez, Costa Rica's minister for the environment and energy, acknowledged in relation to Costa Rica's afforestation approach: "we have learned that the pocket is the quickest way to the heart ". Instead, this policy must be paired with robust financial support, aid and access.
Is there a risk of greenwashing in all of this? 
Tree planting has become perceived as an easy solution to climate change due to its carbon sequestration potential – it has become the token action in order to offset carbon emissions through offset schemes, a form of commercialised climate mitigation which has been often awarded the label of greenwashing. Oil and gas companies have invested in tree-planting to offset emissions, such as Total announcing a $100 million investment in 2019. Tree-planting has been picked up by politicians across the political spectrum due to its feasibility, with even right-wing U.S. former president Donald Trump supporting the proposition of a 'Trillion Trees Act'. This republican move was recognised as a way to satisfy voter demand for climate action without having to curtail emissions and the interests of the fossil fuel lobby. This encapsulates the key issue at hand: planting trees and carbon sequestration shouldn't be a replacement for mitigation measures and reduction of greenhouse gas emissions. Indeed, Greenpeace described this EU initiative as simply "feel good", that overall "lack(s) real action to restore forests and expand clean energy", representative of "not only (…) a dangerous distraction from the climate crisis, but represents logging industry greenwashing." Principally, Sini Eräjää, Greenpeace EU forest campaigner, summarised it as: "the potential climate and biodiversity benefits to planting trees are limited, but the risks of greenwashing are endless". Overall, it is clear, the 3 billion trees pledge should be understood as one policy tool amongst many to promote tree planting and help Europe's climate and biodiversity issues. Indeed, it is simply one of the measures of the EU Biodiversity Strategy for 2030.
To plant or not to plant?
2022 has ended, leaving 7 years for the implementation of the 3 billion trees goal and yet the structure in place to support it and allow for its long-term success seems to be lacking. Overall, as was mentioned in reaction to the press release for the 3 Billion Trees Pledge, "in terms of numbers alone, the pledge has raised eyebrows". 3 billion trees is a very ambitious goal, and we are currently only a tiny fraction of the way there. Hopefully the remaining 2.993 billion trees to be planted will indeed be done with the right trees in the right place with the right support.
https://yeenet.eu/wp-content/uploads/2023/01/A-critical-look-at-footprint-compensation.png
540
540
YEE
https://yeenet.eu/wp-content/uploads/2018/11/logo-yee-728x1030.png
YEE
2023-01-12 14:05:32
2023-03-31 15:01:22
3 Billion Trees - Can the EU do it? ​
COP27 Reflections - Together for implementation?
COP27 wrapped up after negotiations which continued far into the night in the last days of the conference in Sharm el-Sheikh. Despite some positive outcomes, such as the Loss & Damage fund, there is still a lack of recognition of the need to phase out fossil fuels and a general lack of ambition. The motto for this COP was "Together for Implementation" – but have we been able to pass it to action? And are the parties truly "together" in the face of the climate crisis?
Critiques have been heavy so far: Frans Timmermans, EU Climate Policy Chief, addressed the COP: "I urge you to acknowledge when you walk out of this room, that we have all fallen short in actions to avoid and minimise loss and damage. We should have done much more, our citizens expect us to lead." His conclusions are humbling: "This is the make or break decade, but what we have in front of us is not enough of a step forward for people and planet."
A year on from COP26, we are faced with the same issues and discussions. COP26 president, Alok Sharma, recalled: "I said in Glasgow that the pulse of 1.5 degrees was weak. Unfortunately, it remains on life support. And all of us need to look ourselves in the mirror and consider we have fully risen to that challenge of the past two weeks." 1.5 is still the rallying cry from civil society, but it seems an air of resignation could be felt: we aren't set to keep to this target.
As young people, acutely aware that this is our future being decided, it is frustrating to feel that ambitions are being lowered – but the silver lining: at least there was no backsliding on resolutions made in Glasgow. The reality is that climate diplomacy, based on consensus, will be slower and more conservative than the action and words we see on the ground. 
This was YEE's second COP and this year, YEE was able to send two delegations, allowing for a rotation each week. With 11 young people from Europe over the course of a fortnight, we had a diversity of roles and perspectives. As our delegate Adéla said: "Although I participated in multiple calls and trainings about negotiations, COPs and UNFCCC, I believe there is no better way to prepare yourself for it than just experiencing it right on the spot." No matter our feelings on the outcomes and the events at COP, it is undeniable that as young people it is incredibly empowering to be able to attend such high-level events.
A space for young people?
It could look like that young people were finally given a proper space at COPs when the Youth & Children Pavilion was announced earlier this year.
However, as the head of week 2 delegation, Agnes, reflects, it was not exactly what we were hoping for:
"Even though the Youth & Children Pavilion was one small step of the youth involvement, it was most of the time still a place for youth to youth and not a place to bring together negotiators and young people. It was isolated and did not serve the immediate response needed for the role of youth in the climate crisis."
Nonetheless, there were many young people at COP that we were able to connect and coordinate with – a partnership building which resulted in a collective push for the phasing out of fossil fuels at the EU level. As our delegate Timea said: "I think young people did their best at this COP to make a powerful impact on progressing climate action. The Children and Youth Pavilion was always filled with an audience, having interesting events and influential speakers."  The value of young people's contributions did not go unnoticed. 
A step forward on Loss & Damage
The most positive outcome of COP was undoubtedly the announcement of a Loss and Damage fund, after years of advocacy from the Global South. Especially Small Island States and other countries particularly hit by climate change have been using COPs to highlight the need for measures to support efforts to adapt to this new reality and finance the costs caused by the climate crisis. This is sometimes understood as 'climate reparation'. While the details of this fund, who will pay and what amount, are yet to be decided, it is a historic move which will reopen the conversation of responsibility surrounding climate change. Will it be based on historic emissions and responsibilities? A question of a country's development status? The EU's Frans Timmermans argues: "I think everybody should be brought into the system on the basis of where they are today… China is one of the biggest economies on the planet with a lot of financial strength. Why should they not be made co-responsible for funding loss and damage?" The current list of developing vs developed countries used in negotiations is based on a UN determination from the 1990s. We will have to watch and see how the Loss & Damage fund puts in question responsibility and who will end up contributing to the fund.
Given the focus of this COP on implementation, and therefore adaptation, this result can definitely  be seen as a step forward. Yet there is more adaptation needed if we don't keep acting on mitigation. This implementation plan did not include the phasing out of fossil fuels – an essential step for climate change mitigation. Keeping 1.5 °C alive has never felt more precarious. 
Organising side-events 
As civil society, one of our best opportunities was to organise and host side-events. In week 1, in partnership with the European Environmental Bureau and the International Foundation for African Children, we organised an Intergenerational Dialogue on Climate-Induced Migration in the framework of adaptation. We were able to bring together a diverse range of figures from H.E. Nduwa Mkaka, the Minister of Natural Resources and Climate Change of the Republic of Malawi, to Koko Warner the, Manager of the Impacts, Vulnerability, & Risks Sub Programme at UNFCCC, and Sinziana Puscas, a Climate Change and Migration Specialist from the International Organisation on Migration (IOM).
Overall, we were able to have a moment of exchange on what we believe to be an essential topic when considering implementation and adaptation. We were also able to host a UNFCCC-approved protest in the Blue Zone at the end of Week 1 – calling for the protection of environmental defenders and denouncing the fact that multiple countries view environmental defenders as criminals. Studies have found that between 2012 and 2022, more than 1700 environmental activists have been murdered or gone missing. This felt particularly pertinent in the political context of Egypt. 
In the second week, we organised a networking session on intergenerational equity in the Youth & Children Pavilion where we shared our frustrations about youth involvement, or rather the lack of it, in the decision-making processes with Dr. Christina Voigt, the Chair of the IUCN World Commission on Environmental Law (WCEL), who was part of the negotiations as an academic. Dr. Voigt stated: "If you ask, what is intergenerational equity, my answer is, that is what is missing at COP." Overall, these side-events were very meaningful to our experience at COP – a definite challenge but fruitful. 
A challenging experience overall
There was no shortage of challenges at COP – from the pure stressful environment of thousands of people milling around hundreds of pavilions to the pressure felt at being a young person in such a professional and intimidating space.. A key hardship our delegates felt was the frustrations and disappointment at what was being said in negotiation spaces.
As Sophia recounted:
"Hearing them seriously discuss whether the 1.5° target should be kept alive while listening to the personal stories of people already very affected by the impacts of climate change was simply unbelievable".
And this is when we were able to access these spaces: our observer badges did not guarantee full access. This resulted in a "lack of transparency of negotiations (which) further deepened our anxiety. Not only did we have no access to negotiations as Observers, but also there were no newsletters or other reliable sources to follow how the negotiations were going" said our delegate Timea. 
The political context was also particular. Our head of delegation for week 1, Pegah, described how "everyday, our team was concerned about what to say and what not to say, so they do not put themselves or their team in danger". Our Strategic Communications Officer, Chloé, agreed: "Mincing your words, when you are meant to be part of civil society, is counterintuitive." We will be publishing more thoughts on this particular aspect of COP27 soon.
Finally, the very setting of COP27 in Sharm el-Sheikh caused "cognitive dissonance" as Chloé affirmed. Adéla described how
"the whole COP27 was set in an artificial environment, in a manmade resort with five stars hotels where real-life problems seem to not exist."
Two weeks for learning and inspiration
It's easy to fall into feelings of stress and frustration at COP, all well-founded. It is a challenging environment for anyone – from a young climate activist to a seasoned diplomat. But it is clear that there are some positive aspects to these huge events that gather climate professionals and civil society from all four corners of the globe. Firstly, it's a steep learning curve. Timea articulated this: "I learnt a lot, exchanging with youth coming from different regions and realities, as well as with experienced policy-makers and experts… It gave me a lot of motivation and hope to see young people working together, fully committed for a better future".
"It is so uplifting to find yourself surrounded by people talking as passionately (or more passionately) about your interests day in and day out: a continuous reminder that I have so much to learn" agreed our Strategic Communications Officer, Chloé. Overall, it is about seizing the opportunity as Anna affirmed "COP can be a great source of inspiration for those who seek it."
Hope was not eclipsed by despair – "Even in this desert of frustration, there are still islands of hope. I joined a loss and damage climate strike and had an opportunity to speak or even yell from the heart and I met many young climate activists who are so passionate and wholehearted, so I dare to hope that our future is in safe hands" stated our delegate Aleksandra.
Some of the outcomes inspired optimism, our head of delegation for Week2, Agnes, described how "after reading the final decision of COP27, I felt the spark of a small victory by the explicit mention of the role of youth in addressing climate change and the encouragement towards including youth representatives in the climate negotiations."
Eva, our Communications Manager, attested that "after spending the week at the conference, hearing some great speeches, seeing some great work from experts, and observing many protests, I might hesitantly agree that it is actually our best shot at doing anything about the climate crisis on the global scale. By saying this, I am however not trying to excuse the greenwashing, the inaction, the obvious business interests, the propaganda of the organisers."
Overall, there's no easy way to summarise being a young person at such a high level event, as our delegate Marian said:
"At COP, one day you feel powerful, and another day completely hopeless."
As you read the full reflections written by our delegates, please keep in mind that when some of us who attended just week 1 started to reflect on our experiences, the negotiators are meant to be wrapping up negotiations and preparing for the publication of final statements. Therefore tone or references made may not be up to date.
https://yeenet.eu/wp-content/uploads/2022/12/Reflection-Post.png
540
540
YEE
https://yeenet.eu/wp-content/uploads/2018/11/logo-yee-728x1030.png
YEE
2022-12-07 12:01:05
2023-03-31 15:02:05
COP27 Reflections - Together for implementation?​